Sometimes our clients want to hide all signs of "MS Excel" on their BI reports, or just show the report on the full screen.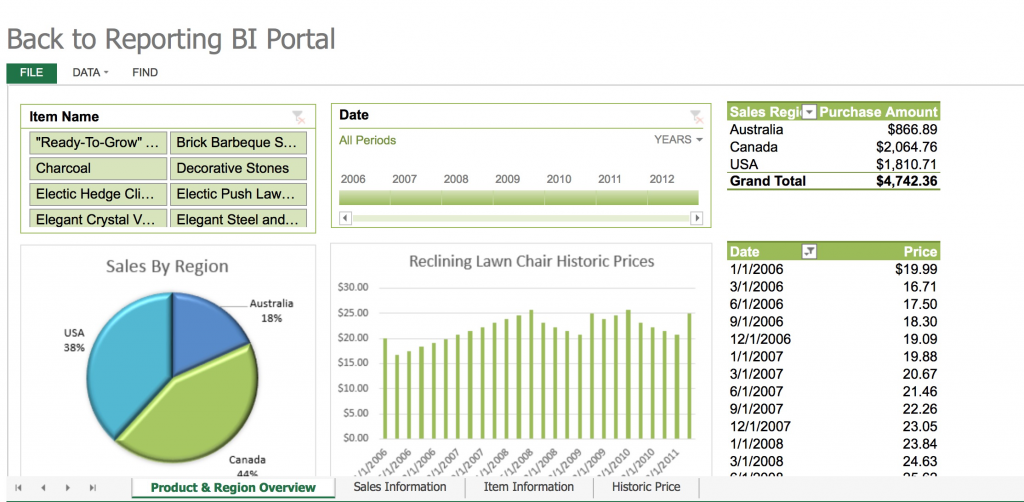 The reasons are different, but in most cases they don't want end users to know, that reports were made in MS Excel application. After some research and practical attempts we've found that this is not possible, even using custom code. The good news are that there is a good built-in "workaround" inside a SharePoint, the bad news – this option is not showing on the site by default.
This "workaround" is RSDS (shared data source) connection file. Reports based on the RSDS connections provide all PowerPivot/BI capabilities, but without any signs of "MS Excel". Today we'll tell you how to enable the RSDS connections and use them to create reports.
By default the *.Rsds file content type does not appear as a new item dropdown in the Data Connection library. So our first step will be to configure the Data Connection library to include the Report Data Source Content type.
1. Navigate to the document library in which you are going to create your RSDS connection file and Power View report
2. Go to the Library tab and click on Library Settings.
3. Navigate to the Advanced Settings.
4. Choose Yes under Allow management of content types, and click OK.
5. Under the Content Types click on the Add from the existing site content types hyperlink.
6. Choose Report Data Source from the available site content types, click Add and then OK.
So, the first part is over. We've enabled the RSDS connections for the Data Connection library. Let's proceed and create RSDS connection file.
1. Return to your document library, in the Files tab click New Document and choose Report Data Source.
2. Enter the name for your RSDS file and choose Microsoft BI Semantic Model for Power View from the Data Source Type menu.
3. In the Connection String field enter a pointer to the data source in the following format: (Data Source=http://yourdomain.com/Shared Documents/YourWorkbook.xlsx).
Optional: If you are using a workbook from the PowerPivot Gallery the pointer will be like: (Data Source=http://yourdomain.com/PowerPivot%20Gallery/YourWorkbook.xlsx).
4. In Credentials leave Windows authentication (integrated) or SharePoint user option selected and click on Test Connection. If connection created successfully, click OK.
5. Now you can see your shared data source (RSDS) connection file.
We've successfully enabled and created a first RSDS connection file. So, let's proceed and create our PowerView report.
1. Return to your document library where RSDS connection file was created.
2. Click on the RSDS connection file to start creation of the Power View report.
3. Customize your report according to your goals.
4. Create your report and click on Save as in the File menu.
5. Now you are prompted to save report to the document library. Provide the name for your report and click Save.
6. Return to the document library and refresh the page. You can see your Power View report created using the shared data source (RSDS) connection file.
That is it. We've created a PowerView report with no signs of "MS Excel", only your beautiful data


Hope this post will help you to improve your SharePoint skills.