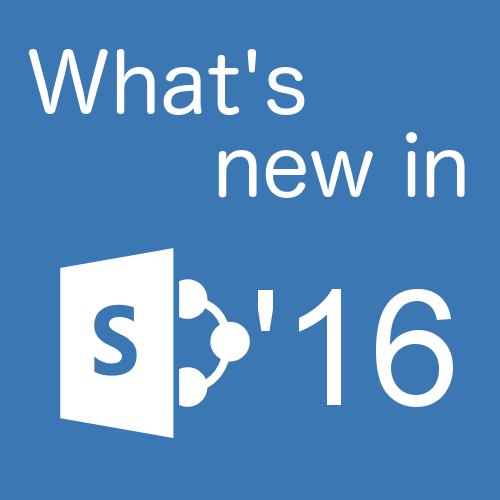 The SharePoint Server 2016 release, based on customers' feedback to meet their exact requirements for the product, introduces significant improvements in SharePoint functionality.
The following list provides a summary of the new features available with SharePoint Server 2016.
– Improved User Experience. SharePoint Server 2016 has now updated the ribbon from SharePoint 2013, so it matches the Office 365 ribbon, meaning that if users are swapping between systems, they will get a consistent experience.
– Extensible Hybrid App Launcher. SharePoint Server 2016 Beta 2 introduces the App Launcher to gain a common access experience across applications and solutions in Office 365 and SharePoint Server 2016.
– Improved Mobile Experience. SharePoint Server 2016 comes with a touch friendly interface to allow you to make decisions faster and keep in contact with colleagues.
– Hybrid OneDrive for Business. Users can sync files with Office 365 and share them with others. They can also get access to their files through the Office 365 directly from any device.
– Cloud Hybrid Search. SharePoint Server 2016 provides a truly unified search experience across SharePoint on-premises and SharePoint Online for the end users. It now enables you to effectively index all of your content and thus provide a single set of results with combined search relevancy ranking, instead of separated lists of results from your on premises and SharePoint online within one page as it was previously.
– Durable Links. The idea is to make sure that links, you sent to your folks continue to work regardless of what happens to the document, i.e. the file name was changed or the document moved.
– Increased File Size for Uploads. The limit for maximum size of the uploaded file to SharePoint, set to 2Gb in previous versions, is no longer an issue. Though there's no real limit now, Microsoft has strongly recommended for it not to go beyond 10Gb.
– Sites you follow in one place. Users now have the ability to follow SharePoint Server and SharePoint Online sites, and see them aggregated in a single list.