SharePoint allows you to adapt search experience according to your specific needs. This can be done on the Search Settings page. By default all the settings from this page are configured on the site collection top level site and inherited by the subsites. All the settings configured on this page are used by search boxes and search results page.
Search Settings include the following options:
Enter a Search Center URL – you can specify the search center you would like to use to allow users search everything inside your site collection.
Which search results page should queries be sent to? – you can specify a custom page for search results.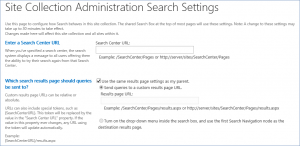 Setting up Search Center URL
Login to the SharePoint top level site as an administrator.
Click the gear icon, go to Site Settings page. 
On the Search Settings page in the "Enter a Search Center URL" section type the URL of the Search center you would like to use.  
Enter a search query to the Search box and press Enter. 
On the results page click on "expand your search" link.  
Verify that you have been redirected to the specified Search Center.

Setting up custom results page