Today I would like to share some information regarding the upcoming SharePoint Server 2016. This article describes initial investments made in installation and deployment of SharePoint Server 2016 from Microsoft Ignite in Chicago.
1. Hardware Requirements
Installation with the minimum recommended services.

Test installation running all available services

2. Operating System Requirements
SharePoint Server 2016 is supported on Windows Server 2012 R2 and Windows Server Technical Preview.
3. Database requirements
SharePoint Server 2016 requires SQL Server 2014 for its databases, also it will support SQL Server 2016.
For additional information on SQL Server 2016 see also http://www.microsoft.com/en-us/server-cloud/products/sql-server-2016/.
4. .NET Framework requirements
According to Microsoft starting from January 13, 2016, .NET Framework 4.5.2 will be the minimum supported version of .NET Framework 4.x.
For SharePoint 16 based on Windows Server 2012 R2 you will need .NET Framework 4.5.2 version.
For SharePoint 16 based on Windows Server Technical Preview "Threshold" you will need .NET Framework 4.6 Preview version. This version comes with Windows Server Technical Preview "Threshold".
5. Prerequisites
SharePoint Server 2016 prerequisites are the same as for SharePoint Server 2013. Prerequisites can be installed manually or with the Prerequisite Installer, similar as for SharePoint Server 2013.
Here is the full list of SharePoint Server 2016 prerequisites:
– Application Server Role, Web Server (IIS) Role
– Microsoft SQL Server 2012 Native Client
– Microsoft ODBC Driver 11 for SQL Server
– Microsoft Sync Framework Runtime v1.0 SP1 (x64)
– Windows Server AppFabric 1.1
– Cumulative Update Package 1 for Microsoft AppFabric 1.1 for Windows Server (KB2671763)
– Microsoft Identity Extensions
– Microsoft Information Protection and Control Client
– Microsoft WCF Data Services 5.0
– Microsoft WCF Data Services 5.6
– Microsoft .NET Framework 4.5.2
– Update for Microsoft .NET Framework to disable RC4 in Transport Layer Security (KB2898850)
– Visual C++ Redistributable Package for Visual Studio 2013
6. MinRole (v1) Overview
MinRole is one of the new infrastructure advancements in SharePoint Server 2016. MinRole is designed to transform guidance into code, simplifying deployment and scale with SharePoint ensuring a request is served end-to-end by the receiving server based on the origination of the request (I.e. end user or batch processing) and role of the destination server.
In previous versions of SharePoint, servers' role was only defined by what services were provisioned and its placement in a SharePoint Farm topology.
MinRole simplifies on-premises server farm deployments, and reduces the unit of scale to simplify capacity planning while providing predictable performance characteristics through enabling selective provisioning of SharePoint server roles based on position and function within a topology.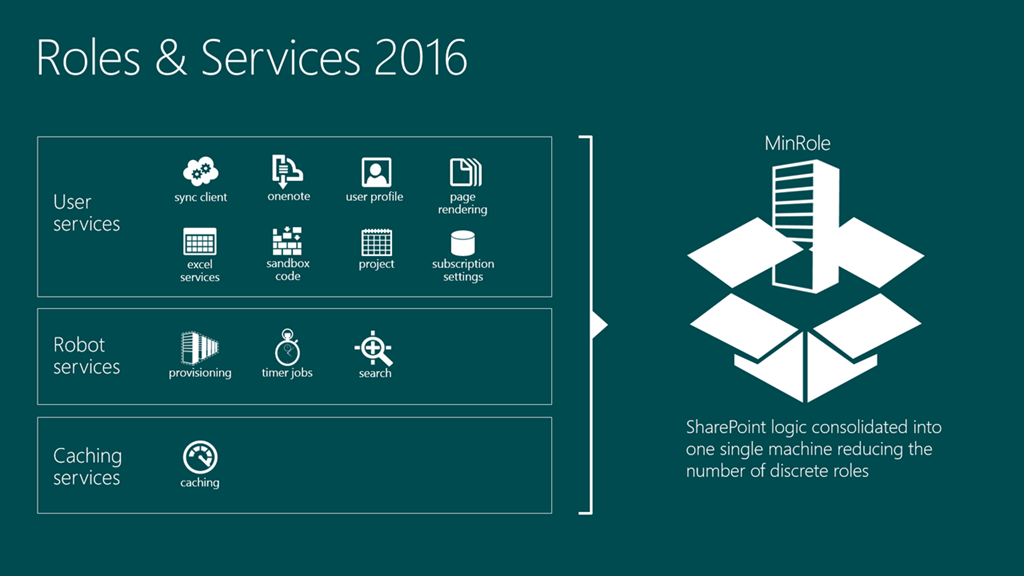 MinRole enables an administrator to select the appropriate server role for a specific server when provisioning SharePoint Server 2016 based on predefined configurations:
Role №1 – Single Server Farm
Provisions all services on the server for a single server deployment. This role is provided for evaluation and development purposes.
Role №2 – Application
Services the backend jobs or the requests triggered by backend jobs, optimized for high throughput.
Role №3 – Web Front End
Services end user requests, optimized for low latency.
Role №4 – Search
Reserved for Search services.
Role №5 – Distributed Cache
Services distributed cache for the farm. Optionally, the server assigned to this role can load balance end user requests among the web front ends.
Role №6 – Special Load
Reserved for services to be isolated from other services, I.e. 3rd party, PerformancePoint, etc.
Also MinRole adds a new command line parameter, "localserverrole", that can be used to specify the role that should be assigned to a specific server when configuring SharePoint Products and Technologies. Also MinRole can be instrumented through the PSConfig GUI.
7. Upgrade and Migration
SharePoint Server 2016 will support upgrade from SharePoint Server 2013. To upgrade from SharePoint Server 2013 to SharePoint Server 2016, you can use the database-attach method to upgrade.
As for site collections provisioned in backward compatible SharePoint 2010 (14) mode, they must be upgraded to 2013 prior to upgrading to SharePoint Server 2016.